Activities
Some of our fun and educational experiences:
Visitors from the community – fire fighters, postal workers, town librarians, dental hygienists, parent musicians, and staff from Westmoor Park
Play with water, sand, dough, and paint
Seasonal crafts and baking
Ride bikes, play with balls, run and jump in the safe, enclosed outdoor playscape area
Books to read, Legos to build, and jigsaws to arrange
Children can play or work alone, or with others, and then come together to listen to a story, to sing and play games, or do craftwork
Letter sounds and identification through singing
Music Class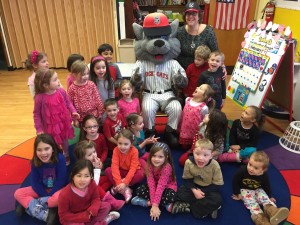 At Quaker Lane, we believe music is an important part of early childhood development. It is the foundation for building strong language, math, and movement skills. Our music teacher Brenda Worth teaches classes weekly for both our two-day and three-day children. Each class incorporates fun, learning, rhythm, movement, and rhyming. The children learn old and new songs, often tied to our current area of focus. It is a joy to hear them singing the songs throughout the day at school.
Brenda has a Bachelor of Arts degree in Music from Hood College in Maryland and holds a Connecticut Teaching Certificate. Brenda's graduate studies include Music for Children at the Orff Institute in Austria and a Kodaly Certificate from Kodaly Institute in Wellesley, Massachusetts. She is retired from the West Hartford Public School System after 26 years as a full-time Music Teacher.